Lawrenceville, NJ (June 2, 2012) - What was to be a sunny day, turned out to be gloomy for the Rough Riders, as they lost to the Central Jersey Spartans 1-0.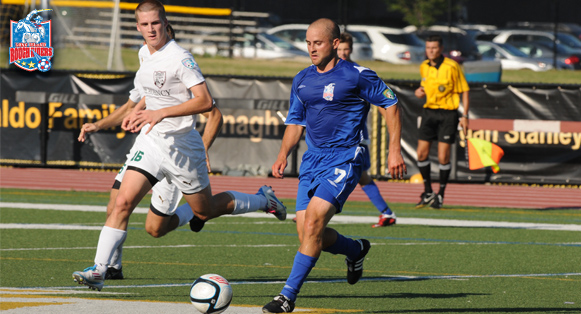 Coming off of their first win against the Westchester Flames last Saturday,the Rough Riders were looking good. They went into today's game strong, but in the end, they could not hold on and the Spartans scored in the 95th minute, winning 1-0.

The game was evenly matched throughout, both teams playing strong defensively, with a 0-0 score going into the second half.

The pressure to score in the second half showed, with both teams scrambling for the win. What looked like to be a scoreless game, ended in the final seconds, with the Spartans finding the net and scoring.

"This was a hard fought match, it could have gone either way at the end," said Long Island Rough Riders Vice President Flavio Ferri, "We are argualbly in the toughest division in the league and every game is a battle."

Be sure to support the Rough Riders as they continue the PDL 2012 Season at Cy Donnelly Stadium in South Huntington on Thursday, June 7th at 7:30pm as they take on the Bermuda Hogges.

For tickets, visit www.liroughriders.com/tickets or call the Rough Riders Office at 516.622.3900.

About the Long Island Rough Riders
The Rough Riders, Long Island's hometown soccer team since 1994. In 1995 both the Rough Riders Men's and Women's teams won their first United Soccer League (USL) National Championship. Since their initial success, the Rough Riders Men's team has gone on to win the 2nd Division National Championship in 2002 while the Rough Riders Women's team qualified for the Eastern Conference Finals in 2008.
The Rough Riders are known for developing players including former US National Team members Chris Armas, Tony Meola, and MLS All Star Giovanni Savarese and Jimmy Rooney along with US Olympic Team Member and current Junior Rough Riders Coaching Director, John Diffley

Box Score First Half Second Half Final
Central Jersey Spartans 0 1 1
Long Island RoughRiders 0 0 0