Written by Michael Lewis
There is little doubt that former Long Island Rough Riders goalkeeper Danny Vitiello is on his way up the U.S. Soccer ladder.
He has played for seven teams in the past seven years, which includes the Rough Riders.
Vitiello, who guarded the Long Island net during the 2018 season, has been hailed as a hero for Sacramento Republic FC, which has advanced to the Lamar Hunt U.S. Open Cup final against Orlando City SC on Sept. 7.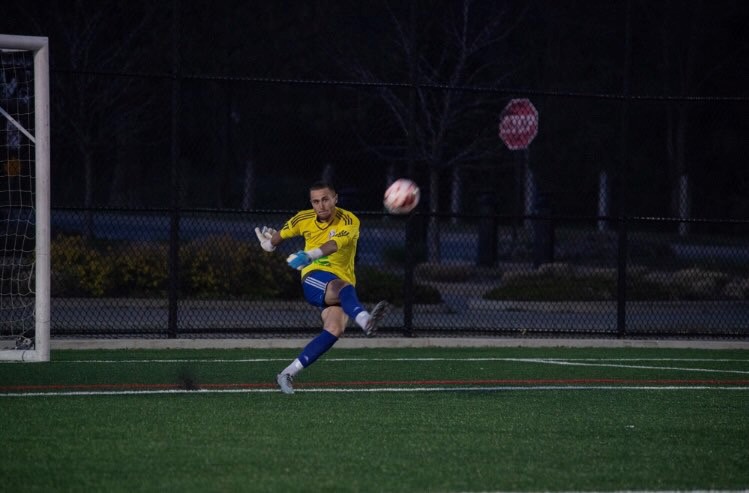 The Massapequa, N.Y. native had some pleasant memories performing for the Riders.
"It was just a great, great experience," Vitiello said in a recent interview.
In so many ways – on and off the field.
For many players, including the 26-year-old Vitiello, it was great coming back home to play the beautiful game they loved so much.
"We spent nine months of the year away at college," he said. "Every single week, we trained to two or three times a week and again. It was just a great, great experience with great players from college. Every day, it was a competition. You had to compete."
The other goalkeeper on the Rough Riders was Dylan Castanheira, a Columbia University graduate who is on the Atlanta United roster (Major League Soccer).
"That's just shows the competition that was within that locker room alone," said Vitiello, who won a New York state title with Massapequa High School and a national youth championship with the Massapequa Soccer Club. "It was a group of guys that wanted to win and great, great competition. You see them still doing it. They just they in the final of the of the USL League Two. Their season was unbelievable."
The Rough Riders dropped a 2-1 decision to the Ventura County Fusion in the championship game on Aug. 6.
Needless to say, Vitiello has been a vital player for Sacramento this season. He made a big-time save in the shootout win over Sporting Kansas City in the Open Cup semifinals. Republic FC won the tie-breaker, 5-4, after playing to a scoreless draw in Sacramento, Calif. on July 27.
"He's an experienced goalkeeper," Sacramento head coach Mark Briggs said. "He's learned a lot from his time at various clubs and growing up. Danny hasn't made many mistakes. He's been extremely good, extremely positive. He hasn't had those difficult moments where he's made a mistake and had to move on. He's maintained a really high level."
Vitello and his teammates will try to make history by becoming the first non-Major League Soccer squad to win the Open Cup since the Rochester Rhinos pulled off the accomplished in 1999.
They are ready for the challenge.
"Takes a look at all the guys we have on this team and what we've been through and what we've accomplished, to say that we're going to an Open Cup final is unbelievable," Vitiello said. "We are only focused on our next team. Without even focusing on Orlando, we know they're going to be a hard team to play, and we know that they're going have great players, great coaching, great fans."
The 6-2, 185-lb. goalkeeper has learned much while climbing the ladder, amateur and pro.
The climb began with the Westchester Flames (2016) and continued with the Jersey Express (2017), Rough Riders (2018), Nashville SC and New Mexico United (2019), Pittsburgh Riverhounds (2020-21) and now Sacramento.
Perhaps MLS is in Vitiello's future. It certainly wouldn't surprise Briggs.
"The sky's the limit," he said. "We're extremely happy to have him. If you perform well consistently, then clubs take an interest. He has the potential and the ability. He still has areas that work but why not? He showed that he can perform on the big stage. He can perform at the highest level with the performances he's putting against various MLS teams in the Open Cup run."
Vitiello? He is just trying to stay focused on his next game and next save.
"I want to play at the highest level possible, no matter what it is," he said. "Whenever I'm playing, I make the most of it. Sacramento Republic, I don't take that for granted. I try and step on the field every day to be the best Danny Vitiello I can be, whether that's a 3 v 3 small-sided game or the Open Cup final. If those opportunities do come, I'll take it as it is, but right now, Sacramento is the place I'm giving it my all.
"I'm just blessed to be playing soccer for a living and being able to see different cultures and meet different people and have 22 best friends every single season. It's been great. I wouldn't want it any other way."