Written by Michael Lewis
UNIONDALE, N.Y. – Soccer fans of all ages sometimes cheered, sometimes groaned and sometimes applauded at a World Cup Watch Party at the Mitchel Field Complex Indoor Facility for a highly anticipated World Cup showdown on Friday afternoon.
While there were no goals scored and no winner of the U.S. men's national team's scoreless draw with England, there still was plenty to cheer about at the Long Island Rough Riders' facility.
The World Cup can bring people and fans together.
"We're having a blast," said Linda Chong, who brought her two daughters to the event. "It's fun to get together with others from our community. Some friends, some strangers but we're all having a good time together watching the game."
"It's been amazing," said soccer fan Scott Burkhardt, who attended the Watch Party with his wife and son. "The watch party this is great. Everyone's together cheering on the U.S. For an opportunity like this in these places is so very cool. "
Added long-time soccer fan Dave Harris: "It's a great atmosphere, great fun."
Rough Riders CEO Peter Zaratin was heartened by the 225 fans …… who attended the Watch Party on Black Friday.
"Having the community join together for a huge game like that was very special."
Prior to kickoff, Nassau County Executive Bruce Blakeman addressed soccer fans and took a group picture with many of the children in the crowd. Nassau County and the Rough Riders partnered to sponsor the event.
"England's got a really, really top team," Blakeman told the crowd. "If you guys got a good spirit and loud, hopefully we'll get the momentum to be heard in Qatar."
The audience was mostly partisan for the USA, but there were some England supporters as well.
Kong and her two daughters, Mari, 11, and Carissa, 7, rooted for England. Mari plays for a Rough Riders youth team, Carissa for Albertson (Long Island Junior Soccer League).
"We're listening to a lot of USA chants," Linda said. "We're big England fans. We love the Premier league. But we root for the USA when they're not playing against England or Belgium."
The Kongs were interviewed at halftime.
Mari's most memorable moment came when U.S. forward Christian Pulisic's shot bounded off the crossbar.
"It looked like it was going in," she said, hoping that shot would not find its intended target.
Actually, there was at least one winner at the Watch Party.
Oliver Burkhardt, 11, an avid soccer fans who plays for the Wantagh-Seaford Fury, won the coveted autographed orange soccer shoes of U.S. midfielder Weston McKennie in a special raffle by Soccer.com.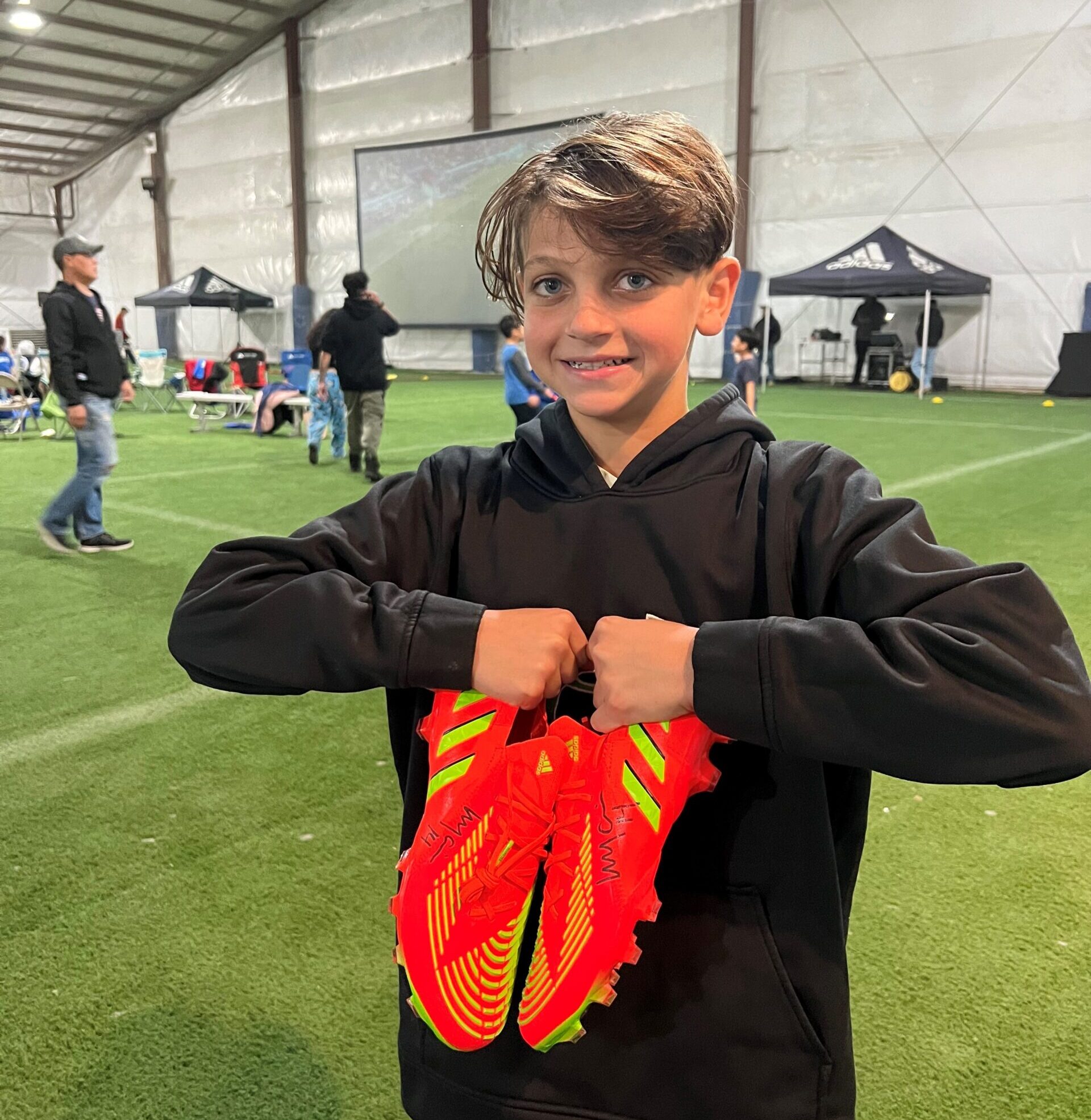 "I feel really happy," Oliver said.
"They're going on a shelf. They're not being worn," his father said.
Who could blame him?
The Rough Riders held a special camp and clinic prior to the encounter. And even some young children kicked the ball around during the game and at halftime.
Harris felt Watch Party's such as the Rough Riders would only help the sport grow.
"Many years ago, when I was younger, these sorts of things didn't exist," said Harris, a member of the Long Island Soccer Football League board of directors. "So, to see these events available for the youth, it definitely helps to raise the interest level."