Written by Michael Lewis
UNIONDALE, N.Y. – They're now five-for-five.
The Long Island Rough Riders men stayed unbeaten in USL League Two play, winning their fifth match in as many tries, a 2-0 triumph over Morrie Elite FC at Mitchel Athletic Complex on Sunday night.
Michael Suski and Jeorgio Kocevski scored first-half goals and goalkeeper Wessel Speel saved a penalty kick for the Rough Riders (5-0-0, 15 points), who remained atop the Metropolitan Division.
The Riders were on the attack from the opening whistle.
Suski sent Morris Elite (1-2-1, 4) a message after only 46 seconds that the visitors would be hearing from him soon, as he fired a shot wide left.
In the sixth minute, Suski made himself heard, giving the home side the lead by heading in a right-wing cross by Dyon Dromers past goalkeeper Matias Molina into the far upper corner.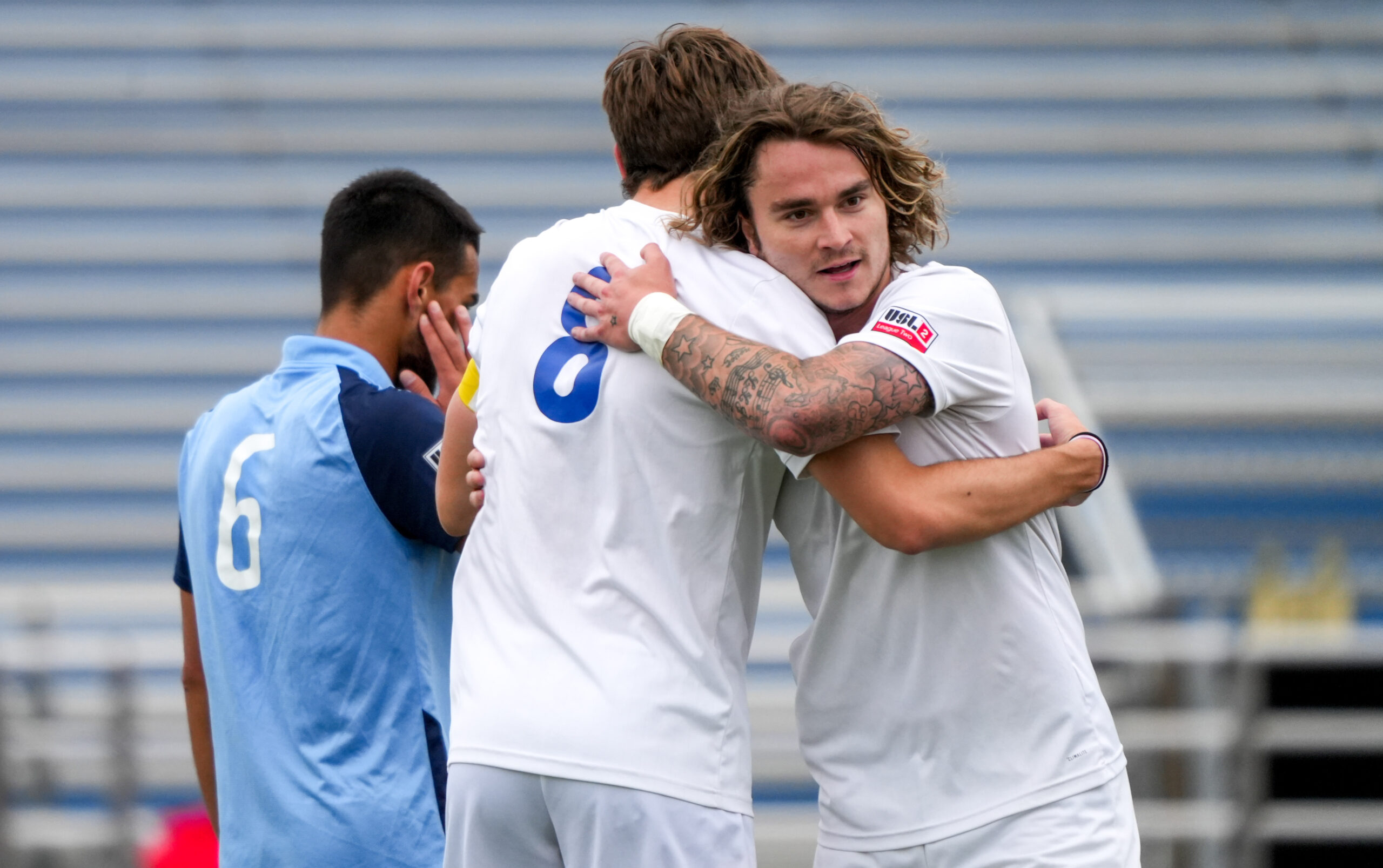 Kocevski, a member of Syracuse University's 2022 NCAA Division I championship team, made it 2-0, hammering home a poor clearance after a Long Island corner kick in the 14th minute.
The visitors were awarded a penalty kick after a Rough Riders' foul in the box. Tomas Nunez took the ensuing free kick in which Speel dove to his right to knock away and preserve the two-goal lead in the 18th minute.
The Rough Riders thought they had added a third goal to their lead as Barakatulla Sharifi put the ball into the back of the net in the 45th minute, but the hosts were ruled offside in the sequence.
Morris Elite almost cut the lead in half and spoiled the clean sheet, off a long free kick in the 74th minute. Speel spilled the ball on the save, recovered and knocked over substitute Jake Novoshelski while diving for the ball. No foul was called against the Hofstra University keeper.
Thanks to a deep roster, Rough Riders head coach Tom Bowen was able to rest midfielder Albert Kang and forward Ryan Carmichael, although both came off the bench to replace Jansen Miller and Suski, respectively, in the 63rd minute.
Also missing from the starting lineup were captain and defender Nico Cavallo and midfielder Filip Mirkovic. They had just completed a memorable stint as guest players with the Wrexham Red Dragons, who reached the quarterfinals of the $1 million winner-take-all The Soccer Tournament in Cary, N.C. this past weekend.
The Rough Riders men will host the Cedar Stars in the first game of a doubleheader at Mitchel, starting at 6 p.m. The women's teams face off in a USL W League match-up at 8 p.m.
In the opening match of Sunday's doubleheader, the Rough Riders women defeated Morris Elite, 2-1, to remain at 5-0 as well.