Written by Michael Lewis
UNIONDALE, N.Y. — Despite playing with only 10 players for a little more than half the game, the Long Island Rough Riders women continued their unbeaten start to the USL W League season with an entertaining 2-1 victory over Morris Elite at Mitchel Athletic Complex on Sunday afternoon.
The Rough Riders (5-0-0, 15 points) moved back into first place in the Metropolitan Division past the idle Cedar Stars (4-0-1, 13), whom they will host in a showdown of undefeated sides at Mitchel on Wednesday, June 7 at 8 p.m.
The hosts were forced to compete with only 10 players for the final 48 minutes after captain midfielder Kimberly Marra was red carded for a hard tackle on Elizabeth Gallagher at midfield in the 42nd minute.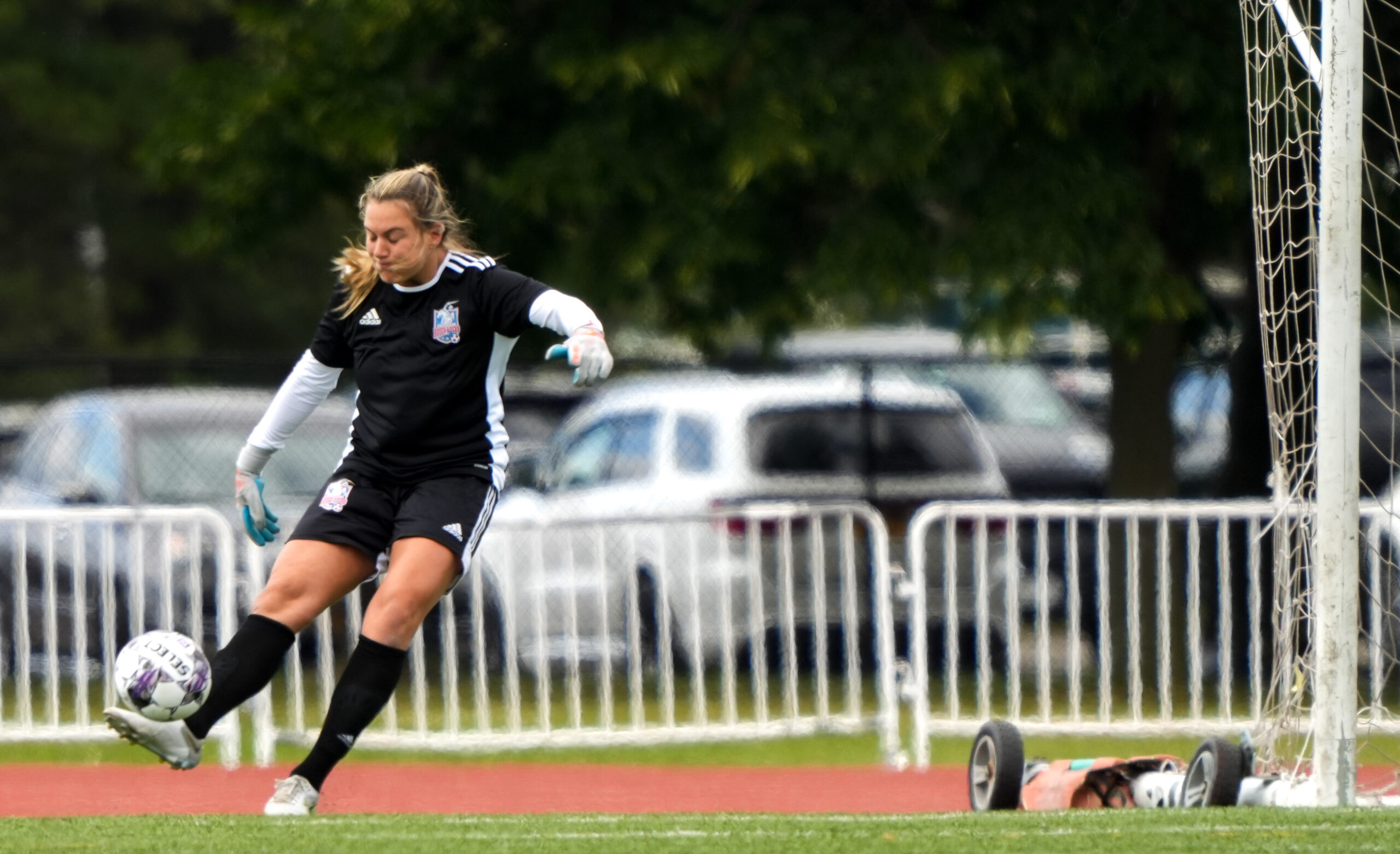 Goalkeeper Natalie Medugno was magnificent, particularly in the second half. She made two key saves within seconds in the 59th minute, a kick save on Juliana Osterman in the 80th minute and then producing two huge stops during a dramatic injury time.
Long Island, which has outscored its opposition this season, 25-4, grabbed a 2-0 halftime lead over third-place Morris Elite (3-2-1, 10) behind an own goal and Marra's score.
The opening quarter hour was fairly even. After Medugno made a diving save on Samantha Kroeger's free kick in the ninth minute, her teammates earned a goal without even touching the ball. Morris Elite defender Grace Denbleyker, trying to clear a high bouncing ball out of the penalty area, accidentally headed it into her own net for an own goal past keeper Arden Lembryk in the 20th minute.
Marra doubled the lead in the 35th minute as Jessica Garziano, just as she was knocked to the turf by Courtney Ruedt, centered the ball to Marra from the right side. Marra slotted the ball home from the middle of the box.
Marra experienced an eventful first half as she rammed a shot off the left post in the 40th minute before she saw red two minutes later.
Morris Elite pushed forward for a goal for a good portion of the second half, and the visitors' efforts were rewarded when Juliana Ryan scored from point-blank range off a corner kick to slice the Riders' margin to 2-1 in the 87th minute.
The New Jersey side continued to press for the equalizer on several corner kicks, but Medugno and her teammates managed to clear the ball out of harm's way prior to the final whistle.
The Rough Riders men hosted Morris Elite in the second game of the doubleheader in a USL League Two match.