Written by Michael Lewis
UNIONDALE, N.Y. – The Long Island Rough Riders men managed to snatch victory from the jaws of defeat by scoring twice in the final five minutes to overcome a one-goal deficit and record a 3-2 dramatic comeback win over FC Motown STA in USL League Two action at Mitchel Athletic Complex on Wednesday night.
With Long Island trailing 2-1 entering the final stretch of regulation, Ryan Carmichael tallied the equalizer in the 87th minute.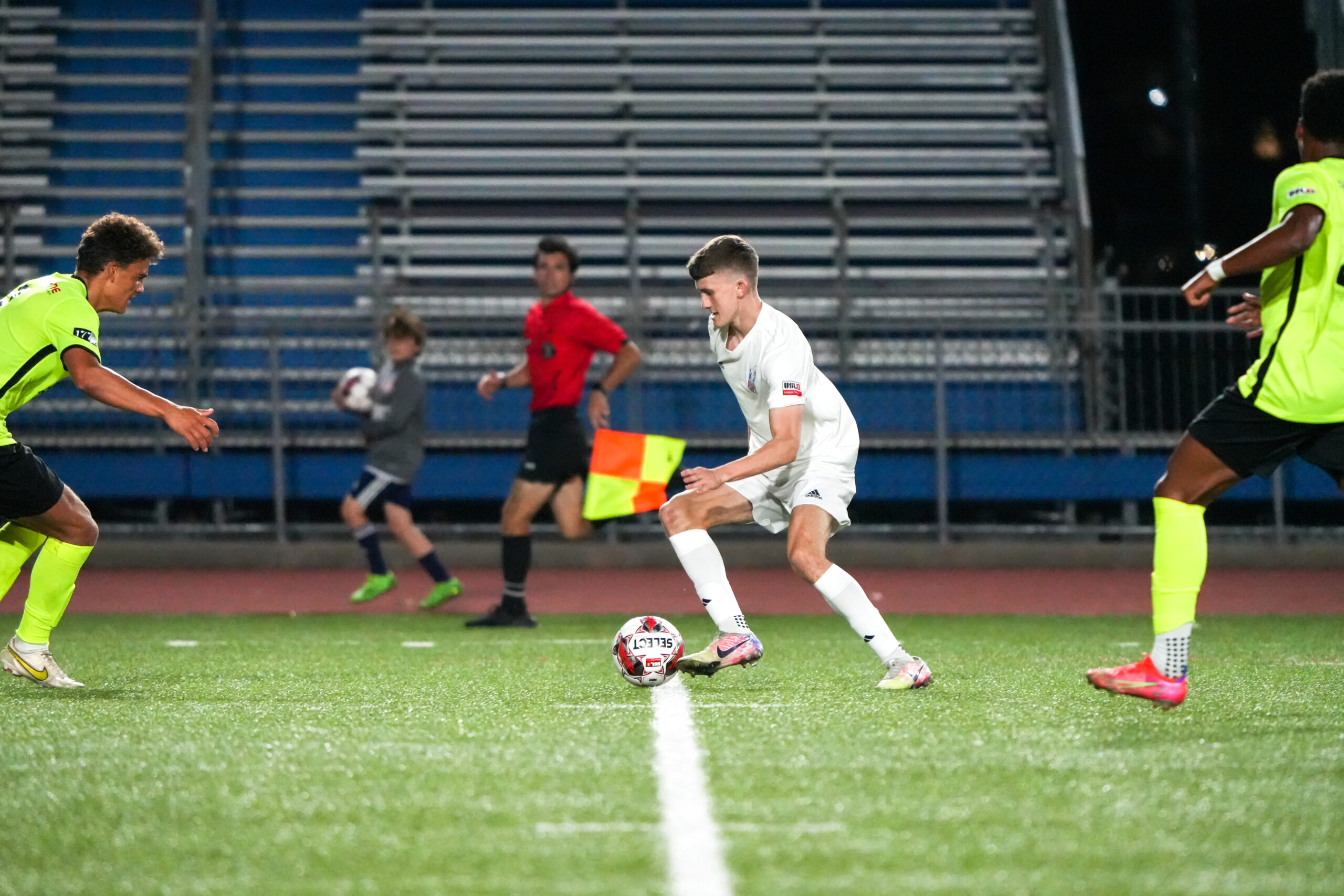 Michael Suski's first goal of the season in the 86th minute kept the Rough Riders (4-0-0, 12 points) unbeaten in the Metropolitan Division. FC Motown fell to 1-3-0.
Carmichael headed in a corner kick to knot things up at 2-2. Long Island barely had time to celebrate before Suski, a second-half substitute, scored from close range.
The Rough Riders played without the services of two key players – midfielder Filip Mirkovic and captain and defender Nico Cavallo, who were with the Wrexham Red Dragons at The Soccer Tournament in Cary, N.C.
FC Motown earned the distinction of becoming the first team to score against the Riders this season as the visitors snapped their shutout streak.
Five minutes after the opening kickoff, Curt Calov sent in a long free kick from the right side that Brendan McSorley headed past goalkeeper Wessel Speel to give the team a 1-0 lead.
Long Island almost equalized on Pierce Infusio's header off Frederik Jorgensen's corner kick in the 16th minute, but the ball was cleared off the line by a Motown defender.
The Rough Riders continued to attack, and their efforts paid off in the 24th minute on forward Finn Ballard McBride's equalizer as the Australian native fired home a short pass from Albert Kang past goalkeeper Ryan Friedberg for a 1-1 deadlock.
Samuel Sarver scored from the left side of the penalty area from eight yards to lift Motown into a 2-1 before Carmichael and Suski provided their heroics in one of the most dramatic Rough Riders finishes in years.
The Rough Riders will meet Morris Elite SC on Sunday, June 4 at 6 p.m. at Mitchel. It will be the second game of a doubleheader as the women welcome Morris Elite SC for a USL W League encounter at 3:30 p.m.