Written by Michael Lewis
Filip Mirkovic and Nico Cavallo, welcome to Wrexham.
No, not the TV show, but the team that is competing in The Soccer Tournament this coming week.
Those two Rough Riders will get an opportunity of a lifetime this week when they will be a part of the Wrexham Red Dragons team that will compete in the $1 million, 7 v 7, winner-take-all event in Cary, N.C. from June 1-4.
Both players received the surprise of a lifetime when Rough Riders head coach Tom Bowen told them the news before a recent practice. They didn't even know they were nominated to join the Welsh team, which needed a few names to fill out its roster.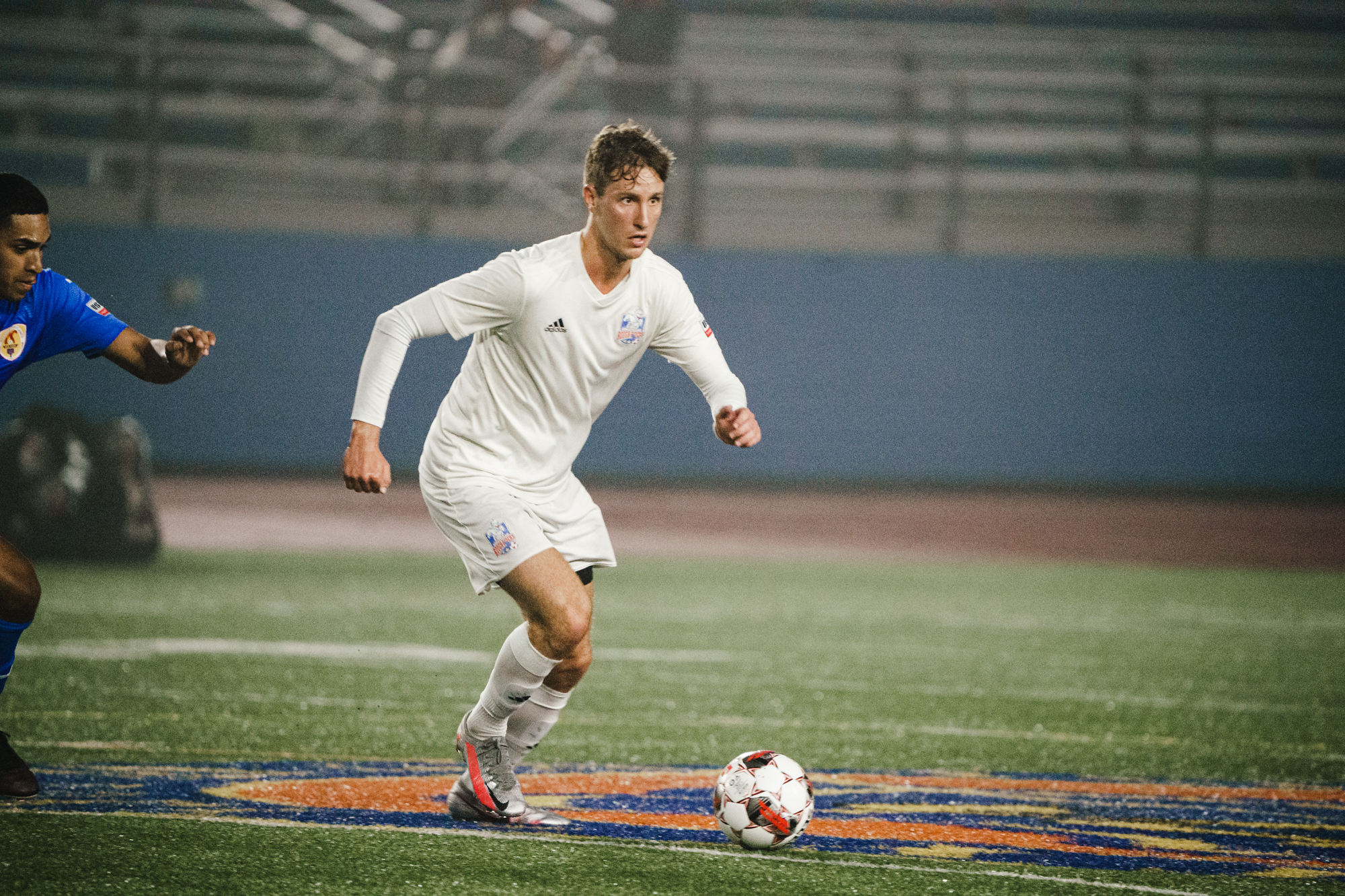 "It was very nice when Tom told us," Mirkovic said. "He mentioned that he put out a few names and I've been selected. I mean, it was pretty much a shock in the first place, but exciting right away. Looking forward to it. And just a cool, fun opportunity to experience this with first team players and ex pros and the whole tournament scene. Very cool. Very exciting, very exciting for sure."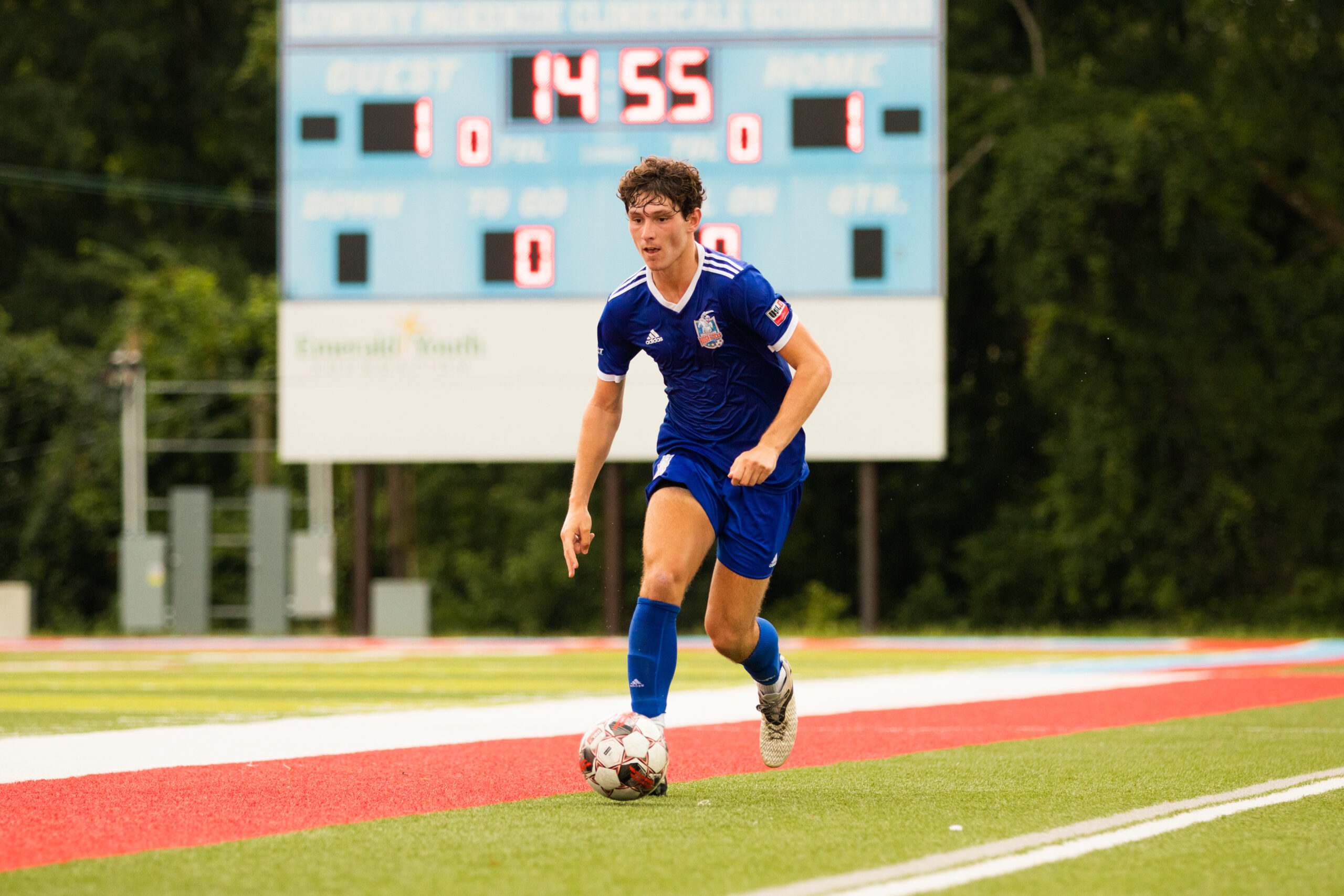 Ditto for Cavallo.
"I didn't even really know what to think about it because I didn't ask to put my name in and then it happened," he said. "I was kind of in shock a little bit, but I'm excited for sure."
Rough Riders General Manager Tanner Sands said that both players deserved this opportunity.
"Nico, being our captain, and a fantastic human being who put in a lot of effort and then Mirkovic, who in our first two games, has been one of our strongest players, it's just an opportunity to be seen at a club that is prestigious right now. It's an opportunity we can present them and we want them to be seen, they deserve it.
"For our club, it's just a great example of the ability for us to put our players first and get them seen on a high stage, which is our goal. Our goal is to let them live out their dreams and their aspirations. Hopefully, we can assist along the way."
Owned by actors Ryan Reynolds (Deadpool) and Rob McElhenney (It's Always Sunny in Philadelphia), Wrexham has gained national attention in the FX series, Welcome to Wrexham. They purchased the team and attempt to get the club promoted back into the English Football League, with game action and all the trappings and behind-the-scenes drama and day-to-day life that surround the club, including the team's most ardent supporters.
Neither player has any delusions of grandeur of getting much playing time. Both will compete in their senior seasons in college this fall, Cavallo with Davidson College and Mirkovic, a Manhattan native, with the University of Pittsburgh.
"No big expectations going into this." Cavallo said. "I'm just happy to be there. Whatever role I play, I'll be excited about it. Whatever playing time you do get is a bonus."
The same went for the 6-2 Mirkovic.
"That will be cool if I do get a decent amount of playing time," he said. "I'm not expecting a whole lot to be honest with you. That's all mostly on the coach. So, I'm not too worried about that. I'm there for the experience. It's still going be very fun to watch them play."
Experience as in a learning experience, an opportunity to improve and meet and perhaps play against some of the biggest stars on the planet.
"It's a great opportunity to really showcase my skills in front of all these professionals," Mirkovic said. "It's a learning experience as well, to see how the level is with the first team players and coaches and really learn a lot from them in the next few days; just enjoying every little part of it. The media, the fans that are coming out to watch, the atmosphere, training with those guys. Just learning to become better in the future."
After all, you never know who will be watching, whether it will be some professional coach from the USA or abroad.
"That's kind of my mindset going in," Cavallo said. "You never know who's watching. Anything can happen. But I'm trying not to psych myself up about that. Just go out there and play and enjoy."
The US Women boast the likes of former U.S. women's international players – Cat Whitehill, Heather Mitts, Heather O'Reilly, Kristine (Lilly) Heavey, Lori (Chalupny) Lawson and Lori Lindsey. USWNT legend Mia Hamm was the head coach and one-time teammates Carla Overbeck and Saskia Weber are assistant coaches. Michelle Akers is the general manager.
Spanish international Cesc Fabregas, a member of the 2010 World Cup championship team, plays for Como 1907.  Getting an opportunity to meet and perhaps play with Fabregas. Both Rough Riders are fans of Arsenal, for which Fabregas played from 2003-11.
"He was one of the first players I watched growing up," the 6-foot, 170-lb. Cavallo said. "He's my brother's favorite player of all time. So, that's just going be cool for me."
And for Mirkovic as well.
"I'm a midfielder myself, so I definitely learned a lot from him; really liked him as a player, even when he was at Arsenal," he said. "He's a legend. It'd be a great chance to play against, see what he's got."
As it turns out, the Wrexham Red Dragons' three group matches will be streamed on Peacock. The Welsh side's schedule:
* Wrexham Red Dragons vs. Como 1907 – June 1, 1:30 p.m. ET
* Wrexham Red Dragons vs. US Women – June 1, 8 p.m. ET
* Wrexham Red Dragons vs. Say Word FC – June 2, noon ET
The knockout round and quarterfinals are set for June 2, the semifinals on June 3 and the championship game on Sunday, June 3 from 7-9 p.m.
"Seeing all those three [being streamed] was crazy to me," Cavallo said. "That's awesome because I know a few of my college teammates and maybe my family might not be able to go, but they will be able to watch. It will be really cool."
Mirkovic also told his friends about the tournament.
"They're also very excited for me," he said. "They said it was a great opportunity. If anything, just go there. Have fun. See the environment, learn from the players, learn from the coaches to really try to enjoy and get every second of it to remember. Keep using it for my for my football in the future."
Former NBA all-star and ex-Brooklyn Nets head coach Steve Nash also will perform for Como 1997.
Mirkovic and Cavallo admitted they haven't watched the Welcome to Wrexham, but that hasn't stunted their excitement for the tournament.
"I have not been able to watch unfortunately," Cavallo said. "But my dad is about it. He had already watched it. He's excited about it for me."
He probably isn't the only one.
The 7 v 7 tournament is a winner-take-all competition in which 32 teams will compete.
If the Red Dragons do win the tournament, Cavallo and Mirkovic cannot keep the winnings because they still attend college, and it would be against NCAA rules and regulations. The Rough Riders are looking to reinvest whatever amount there is, for the future development of players with the club.
"We're still working through exactly how to best utilize it," Sands said. "It's a winner take all, so the likelihood is as small. But because they're in college, they can't take the winnings. We thought it would be best to use it for giving other players opportunities. That's what we're imagining on how best to use it."
Directed by Wrexham head coach David Jones, the Red Dragons squad is made up of current players on the newly promoted team in England's League Two. 
The Welsh-based club's roster includes current goalkeeper Mark Howard and center back Scott Butler. There are also former team striker and manager Andy Morrell, another ex-Wrexham striker, Lee Trundle, defender-midfielder Mark Carrington and Paul Rutherford, who both made more than 200 appearances with the club, former midfielder Dan Jarvis, and two guest players from Scotland – midfielder George Boyd and Liam Grimshaw.
Both players will miss the Rough Riders' home game against FC Motown on Wednesday, May 31 in USL League Two, but getting welcomed by Wrexham would be an experience that cannot be quantified.
A once in a lifetime experience.