Written by Michael Lewis
When a soccer player is nine- or 10-years-old, no one, not even the best coaches in the world, can predict how far they will go.
That went for U.S. men's national team's 19-year-old defender Joe Scally as well.
About a decade ago, the Lake Grove, N.Y. resident was a member of the Long Island Rough Riders' youth team that competed in the USL Super Y League.
As a Rough Rider, Scally was named to the 2011 all-tournament team at the Super Y League North American Finals. He even took home the Golden Boot for the U12 division at the tournament.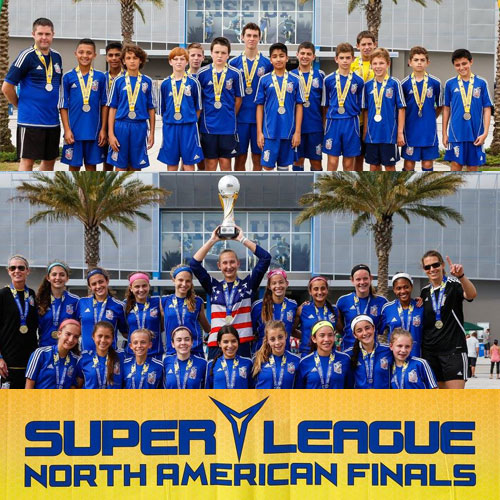 Head coach Paul Cutter saw a talented player who had a love and passion for the beautiful game.
"The thing that always stood out, he just loved the game," Cutter said. "He lived the game. He was such a pleasure to coach, just always had a real passion and love for the game. High energy, hardworking and you can see the talent. He was great kid. Really great family as well; really supportive family with him. He was always definitely one of the standout players back then. But the thing was whatever he was doing – it didn't matter if it was a warm-up, a practice game – he just loved the game."
Cutter said he was "very proud" of what Scally has accomplished and that he was among the 26 USA players in Qatar.
At 19, Scally is the youngest member of a USA squad – he will turn 20 on Dec. 31 – that will compete at the World Cup in Qatar. The Americans kicked off their journey against Wales on Monday, Nov. 21, before taking on England on Friday, Nov. 25 and completing Group B action vs. Iran on Tuesday, Nov. 29.
Scally has enjoyed a rapid ascension from a promising youth player to the professional ranks with New York City FC (Major League Soccer) and Borussia Moenchengladbach (Germany) and eventually to the USMNT.
Cutter, who is coach of the Garden City High School boys soccer team, has guided many a player through various youth teams and programs through the years. It is very difficult to predict or ascertain how far a highly talented player will go in the soccer universe.
Despite his fine attributes, Scally fell into that category when he was nine- or 10-years-old.
"You're not really thinking like that," Cutter said. "That's one of the parts of youth coaching you're not thinking this kid's going to go professional or this kid's going to get a scholarship. So many people get caught up with that. It's not really about that at that level. It's trying to work on the technical skills, trying to give them an environment where they want to come back, and they love what they're doing every single week. I don't think any of us were thinking that this kid's going to be in the World Cup, not because of anything he did, because if you're thinking about that when the kids are nine, you're probably not in it for the right reasons."
Cutter, who also coached Scally on the Eastern New York Youth Soccer Association's Olympic Development Program team, was assisted by Tarl Smith, Stuart Love and David Stapleton.
Joe's mother, Margaret, took him to countless practices and games, from youth games on Long Island to NYCFC matches at Yankee Stadium in the Bronx. She said that she never had any illusions that her son would become and find his way to Europe and the national so quickly.
"I didn't know where his journey was going to take him," she said. "I knew he has a different mindset."
Joe has shown much grit, thriving on overcoming adversity.
"As soon as he got to Germany it was him alone," Margaret said. "He just focused on himself and did whatever he had to do. It was COVID. We couldn't come visit him. I mean, he just proved himself.
"He just has a gift to deal with things that adults can't deal with. He just knows how to deal with things. It's really a great. It adds to the person he has just like Frank [Schmidt, Joe's youth trainer] always says. He just has that way of turning anything negative right into something positive or taking something positive from the negative."
That is a rare quality for anyone to have, let alone a teenager.
When he learned he was going to Qatar, Scally, needless to say, was elated. He became the fourth former member of the Rough Riders organization to be named to a World Cup team, joining goalkeeper Tony Meola (USA, 1990, 1994, 2002), defender Wilmer Cabrera (Columbia, 1990, 1998) and forward Edson Buddle (USA, 2010).
"Making the World Cup roster is a dream come true to me," Scally said in a statement. "It's something that I've always dreamed of since I started playing soccer. It's the reason I played soccer. It only happens every four years, to represent your country on the world's biggest stage, it's something that I will remember forever and it's something that just means so much to me. I'm really looking forward to it."
Even Ted Lasso has given Joe Scally some words of wisdom and inspiration – in his hometown.
In a message in front of Village Hall in Lake Grove, N.Y. on Long Island, Lasso placed one of his many signs for the 26 U.S. men's national team players who are in Qatar for the World Cup.
Scally, the youngest player on the USMNT at 19, hails from Lake Grove.
Lasso has put up inspirational messages in the 26 players' hometown across the country, in the TV character's unique way of getting his point across.
His message to Scally: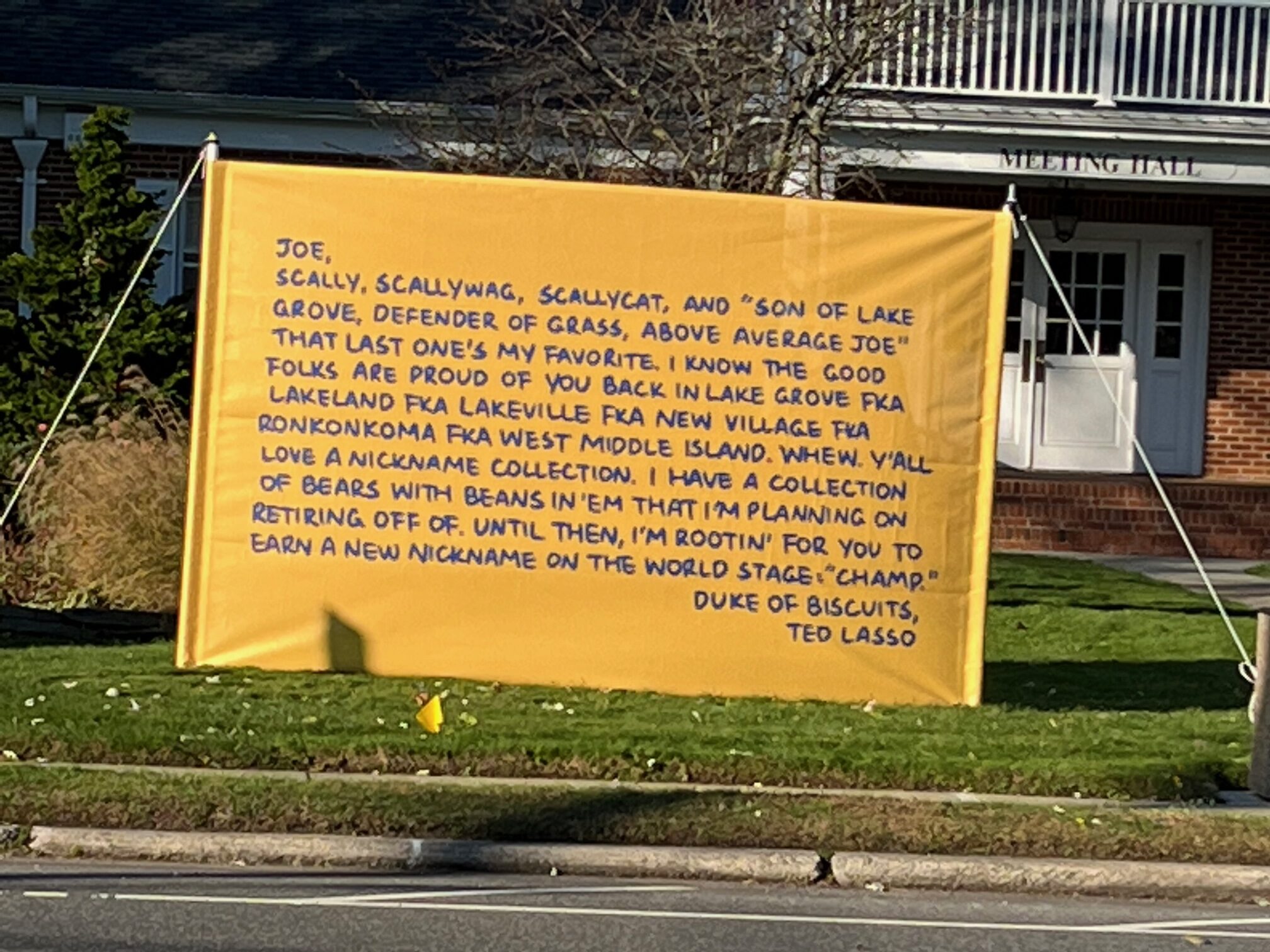 The USMNT has advanced to the knock out round of 16 at the Qatar World Cup and will take on the Netherlands Saturday, Dec. 3rd at 10:00am EST.